We're back! Join us for four exciting weeklong summer camps for children in the beautiful hills of Washougal, WA.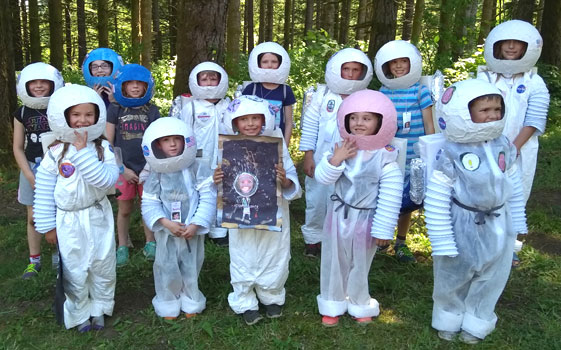 Yay! It's time to be a kid again! Join us for Camp Windy Hill's 11th year of summer camps for children in Washougal, WA! Camps are on five beautiful acres overlooking the Columbia Gorge. Creative art and outdoor play are highlights of each session. Camp Windy Hill meets Monday-Thursday from 9:30 am-2:00 pm for ages 5-11, with optional extended care from 8:30-9:30 am and 2-3 pm for all camps.

2022 Summer Camps
Outer Space Adventures Only 1 space available


July 11-14
Blast off on an exciting adventure through space! Make your own spacesuit, backpack, mission patch, and helmet. Create an astronaut self-portrait, launch air-powered rockets, learn how astronauts live and survive in space, and give astronaut ice cream a try! And of course, we'll play in the woods, too! Ages 6-11
Fairy Wonderland Only 3 spaces left


July 18-21
Take a magical adventure to fairyland! Make fairy finger puppets, wands, and halos, and create fairy houses under the big fir trees. Read fairy tales, look for fairies in the woods, make beautiful handmade paper for your fairy drawings and stories, and enjoy an outdoor tea party dressed in your fairy finest! Ages 5-9
Awesome Animal Art FULL! Wait list available


August 8-11
Explore the wild world of animals! Draw, paint, sculpt, and make puppets of your favorite creatures—from penguins to humpback whales, friendly sea otters to ferocious tigers, and tiny hummingbirds to giant elephants. We will also visit a local family farm, pick blackberries, make forts in the woods, and play lots of water games—just because it's summer! Ages 5-11
Fun in the Sun: Dragons! FULL! Wait list available


August 15-18
Kids love dragons, castles, & knights! Make colorful fire-breathing dragons, princess and knight puppets, and build mini castles. We'll create art with paint and mixed media to tell a story about dragons, brave knights, and fearless princesses, and make swords and shields to protect ourselves as we hunt for dragons in the woods! Ages 5-11

About Camp Windy Hill

This is Camp Windy Hill's eleventh year of creative camps for children. We are a small family-run camp offering imaginative art, science, and nature explorations. Camp Windy Hill is a child's delight with trees to climb, rope swings, large open fields, a backyard stream and goldfish pond, and beautiful woods to explore. Come play with us this summer!
Camp Director: Kathy Marty has been an artist, graphic designer, children's art and space science teacher, and special education paraeducator for many years. She loves introducing children to the world of nature, art, and science, and brings joy and enthusiasm to each camp.
Camp Size: 14 children maximum; 7:1 camper/counselor ratio.
Time: Camps meet Monday–Thursday from 9:30 am–2:00 pm. Optional extended care is available (see below).
Fee: Early Bird Registration: Submit your application and fee by May 1 and pay $185.00 per camp. After May 1 the fee is $195.00. Fee includes all materials. Campers bring their own sack lunch, snacks, and water bottle each day.
Extended Care: Optional for all camps from 8:30-9:30 am and 2-3 pm; $7/hour per child payable the week of camp.
Covid-19 Protocols: We care about the safety of all our campers, staff, and their families. Camps will take place mostly outdoors, which will minimize the possibility of exposure. We will follow all recommended CDC guidelines. All counselors will be fully vaccinated. PLEASE NOTE: We are only accepting vaccinated children this summer. Contact us with any special circumstances or questions about this new protocol. Since a member of our household is immunosuppressed, we ask you to please respect that we are opening our home for this camp and therefore reserve the right of admission.
For more information or to register: Please call or text (360) 977-8032 or email kathy[at]campwindyhill.com.
Click here for a registration form for summer 2022. Registration is on a first-come, first-served basis. Please email or call me if you would like your child added to a wait list.