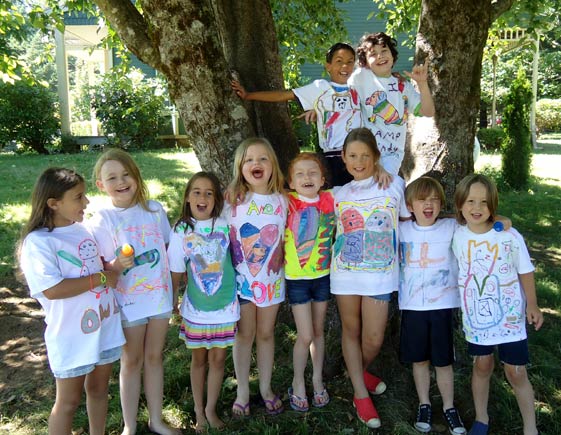 Join us in 2023 for four exciting weeklong summer camps for children in the beautiful hills of Washougal, WA.
Yay! It's time to be a kid again! Join us for Camp Windy Hill's 12th year of summer camps for children in Washougal, WA! Camps are on five beautiful acres overlooking the Columbia Gorge. Creative art and outdoor play are highlights of each session. Camp Windy Hill meets Monday-Thursday from 9:30 am-2:00 pm for ages 5-11, with optional extended care from 8:30-9:30 am and 2-3 pm for all camps.
2023 Summer Camps
Circus Arts FULL; wait list available

July 10-13
Enter the world of acrobats, jugglers, and make-believe! Learn to juggle, unicycle, walk on stilts, and balance on a slackline and a rola bola. Create cool circus toys and a miniature one-ring circus. Get your face painted, dress in silly clothes, make up circus acts with your camp friends, and have fun playing carnival games! Ages 5-11
Fairy Wonderland FULL; wait list available


July 17-20
Take a magical adventure to fairyland! Make fairy finger puppets, wands, and halos, and create fairy houses under the big fir trees. Read fairy tales, look for fairies in the woods, make beautiful handmade paper for your fairy drawings, and enjoy an outdoor tea party dressed in your fairy finest! Ages 5-9
Budding Artists FULL; wait list available


August 7-10
Experience the joy of drawing and painting in the styles of several famous artists! Campers will be inspired by the artwork and styles of a variety of modern and traditional artists. They will then use pastels, paint, printing, and mixed media to create their own beautiful works of art, and splatter paint a unique portfolio to take their creations home! Ages 5-11
Toy Inventor's Workshop FULL; wait list available

August 14-17
Make your own toys that fly, spin, climb, and swim! Design and build an awesome flying car, kid-friendly bow and arrow, climbing toy, alien spaceship, and a water-powered boat. Put your toys to the test through games and challenges with other campers. A unique blend of art, science, creativity, and outdoor fun! Ages 6-11

About Camp Windy Hill

This is Camp Windy Hill's 12th year of creative camps for children. We are a small family-run camp offering imaginative art, science, and nature explorations. Camp Windy Hill is a child's delight with trees to climb, rope swings, large open fields, a backyard stream and goldfish pond, and beautiful woods to explore. Come play with us this summer!
Camp Director: Kathy Marty has been an artist, weaver, graphic designer, children's art and space science teacher, and special education paraeducator for many years. She loves introducing children to the world of nature, art, and science, and brings joy and enthusiasm to each camp.
Camp Size: 14 children maximum; 7:1 camper/counselor ratio.
Time: Camps meet Monday–Thursday from 9:30 am–2:00 pm. Optional extended care is available (see below).
Fee: Early Bird Registration: Submit your application and fee by May 1 and pay $190.00 per camp. After May 1 the fee is $200.00. Fee includes all materials. Campers bring their own sack lunch, snacks, and water bottle each day.
Extended Care: Optional for all camps from 8:30-9:30 am and 2-3 pm; $7/hour per child payable the week of camp.
Covid-19 Protocols: We care about the safety of all our campers, staff, and their families. Camps will take place mostly outdoors, which will minimize the possibility of exposure. We will follow all recommended CDC guidelines. All counselors will be fully vaccinated for COVID. PLEASE NOTE: We are only accepting COVID vaccinated children this summer. You are welcome to contact us with any questions about this protocol. Since a member of our household is immunocompromised, we ask you to please respect that we are opening our home for this camp and therefore reserve the right of admission.
For more information or to register: Please call or text (360) 977-8032 or email kathy[at]campwindyhill.com.
Click here for a registration form for summer 2023. Registration is on a first-come, first-served basis. Please email, text, or call to ask about availability, or if you would like your child added to a wait list.